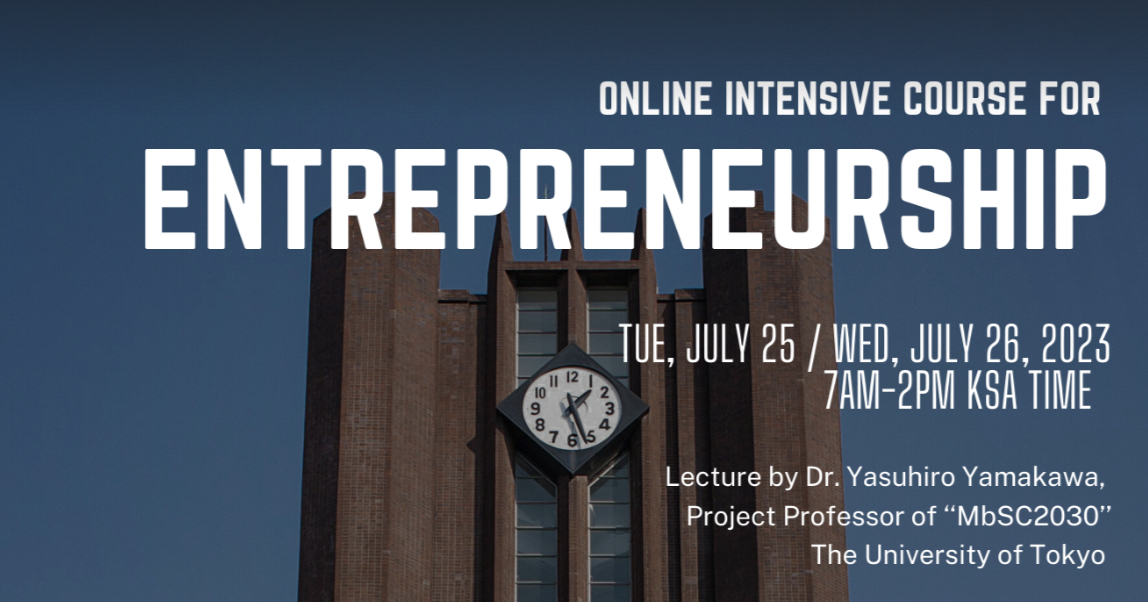 We are announced to have this online course for Saudi students.
【Date】 Tue, July 25 / Wed, July 26, 2023
【Time】 7AM-2PM KSA time
【Lecture Style】Online by ZOOM
【Accepted number of students】30
【How to apply】Register through the link ⇛ https://forms.gle/zCP6RzzRcsyNiTWE6
【About the course】
Deep Dive into the Entrepreneurial Mindset and Process
"Everything we have by way of modern convenience and technology was enabled directly or indirectly by an entrepreneurial process and endeavor."
The main objective of this course is to explore series of questions in the world of entrepreneurship. What is entrepreneurship? Who is an entrepreneur? Are you? How do you generate ideas? How do you evaluate an opportunity and assess its feasibility? How do you effectively pitch and deliver your initiative to stakeholders? What does it take to create a movement/momentum? What if you fail? Ultimately, we will take a deep dive into the entrepreneurial mindset to addresses the questions above. We will examine these inquiries through a combination of theory and practice.
Learning goals will be met through (a) lectures of classic and emerging concepts in the field of entrepreneurship, (b) activity-based sessions and discussions supported by (c) guided readings and self-study materials (including homework assignments).
Students will explore the method of entrepreneurial thought and action®️, various idea generation techniques, opportunity evaluation and feasibility assessment tools, leadership and followership concepts, and most importantly, ways to understand themselves as primary driver for successful and sustainable entrepreneurial endeavors.
"Entrepreneurs can change the world."
So can you. After taking this course, students will have cultivated the confidence to take swift action.
SESSION PLANS (TBC)
DAY 1   July 25 7AM-2PM KSA time

Session 1. Entrepreneurs can change the world, and so can you. What is Entrepreneurship? ETA? Who am I? Overview of course and project design.
Session 2. Who are you? Importance of self-understanding as primary driver for effective entrepreneurship.
Session 3. Vision and career: What do you want to do? What impact do you plan to bring to the world?
Session 4. Entrepreneurial leadership: Understanding behavioral styles. Importance of followership in creating a movement/momentum.
DAY 2   July 26 7AM-2PM KSA time

Session 5. Opportunity recognition: How? The importance of problem-driven approach to entrepreneurial initiatives. What is creativity?
Session 6. Design thinking as process to innovation. Leveraging future trends and markets. Intro to rocket pitch.
Session 7. Prototyping, ET&A, and reshaping the opportunity.
Session 8. Essentials of entrepreneurial marketing, creating a stronger value proposition, and the mission statement.
【Lecturer】
Dr. Yasuhiro Yamakawa
Project Professor of ''MbSC2030'' , The University of  Tokyo